Choose the way that makes it easy for you and get your own ISIC card
ISIC POINT
4, Filellinon str – 4th floor, Syntagma Squ., Athens
The fastest choice to get your card right now is to go to ISIC POINT, 4,
Filellinon, 4th floor, Constitution, Athens, where they will issue you on the spot.
You will need a photo ID, a pass or a certificate of education for the current academic year,
a police ID or passport and an annual subscription of 15 Euros.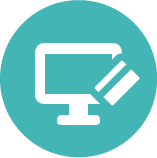 Online
Use our online option quickly and easily. All you need is a digital photo (ID type), ID or passport and Certificate of full time studies from your  educational institution. You can pay by credit / debit card or by bank deposit. After payment, we will send your ISIC at the specified address (exclusively within Greece and Cyprus) with Post ELTA at an additional cost of 3 Euros.

Stores
COSMOTE – GERMANOS
Visit one of our stores by providing all the necessary documents and make your application straight away.