Choose the way that makes it easy for you and get your own ISIC card
-TEMPRORARILY UNAVAILABLE-
ISIC POINT
The fastest way to issue your ISIC Card is by submitting at our ISIC POINT all the necessary documents in printed form.
ISIC POINT Address
4, Filellinon street – 4th floor,
Syntagma square, 10557 Athens
+30 2103232915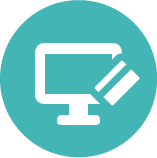 Online
ISIC Issuance / Renewal *
Submit your application online by uploading the necessary documents within the platform.
Payment by credit / debit card & shipping by ELTA Post.
*the renewal implies the issuance of a new ISIC
**ISIC card is issued within 2 working days